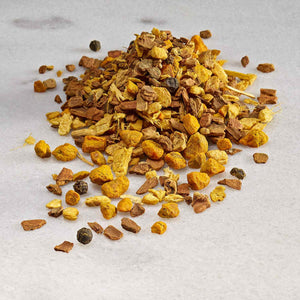 An invigorating blend of cinnamon, turmeric, ginger, sarsaparilla, and black peppercorn, this tea draws from Ayurvedic principles to energize and awaken the mind and body.
Instructions: Steep 1 teaspoon of loose leaf tea in 6 - 8 oz of hot water (208º F) for 4 - 7 minutes. 16 servings for every 2oz.
Tea Properties:
Origin:

Schasteâ

Tea Type:

Herbal Tea

Caffeine Level:

Caffeine Free

Intention:

Create, Indulge, Restore

Health Benefits*:

Helps with mental sharpness and heart health. High in antioxidants.
Ingredients: Cinnamon, ginger, turmeric, sarsaparilla, black pepper, ginseng
*These statements have not been evaluated by the Food and Drug Administration. This product is not intended to diagnose, treat, cure, or prevent any disease.