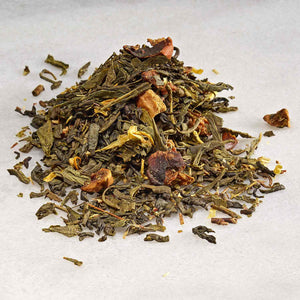 A taste of spring time during any season! Succulent juicy pear blended with green tea, green rooibos, marigolds & apple bits.
Instructions: Steep 1 teaspoon of loose leaf tea in 6 - 8 oz of hot water (175º F) for 1 - 3 minutes. 32 servings for every 2oz.
Tea Properties:

Origin:

China

Tea Type:

Green Tea

Caffeine Level:

Medium

Intention:

Relax, Indulge

Health Benefits*:

Boosts mood, metabolism, and immune system. Helps fight against cancer, gingivitis, and cavities. 
Ingredients: Green tea, green rooibos, apple bits, marigolds, natural flavors

*These statements have not been evaluated by the Food and Drug Administration. This product is not intended to diagnose, treat, cure, or prevent any disease.