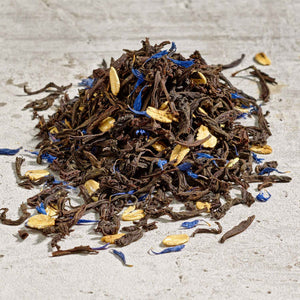 Organic black tea from Sri Lanka hand blended with rolled oats, fragrant oil of bergamot and a touch of Mexican vanilla. A remarkable blend with fresh citrus notes followed by a rich and robust finish. 
Instructions: Steep 1 teaspoon of loose leaf tea in 6 - 8 oz of hot water (208ºF) for 4 - 6 minutes. 40 servings for every 2oz.
Tea Properties:

Origin:

Schasteâ

Tea Type:

Black Tea

Caffeine Level:

High

Intention:

Energize, Indulge

Health Benefits*:

Improves mood, circulation, heart health, cholesterol, and blood pressure.
Ingredients: Black tea, oats, cornflowers, bergamot, vanilla

*These statements have not been evaluated by the Food and Drug Administration. This product is not intended to diagnose, treat, cure, or prevent any disease.