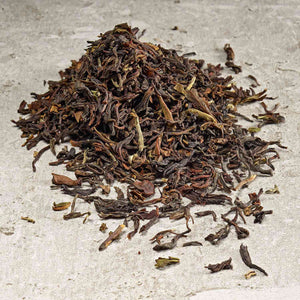 Darjeeling Orange Valley 1st Flush
This Darjeeling is grown on 5000ft Himalayan slopes, brewing a bright, crisp cup with notes of honeysuckle and muscatel. This celebrated spring harvest from the esteemed estate considered the "champagne" of teas.
Instructions: Steep 1 teaspoon of loose leaf tea in 6 - 8 oz of hot water (208º F) for 4 - 6 minutes. 32 servings for every 2oz.
Tea Properties:
Origin:

India

Tea Type:

Black Tea

Caffeine Level:

Medium

Intention:

Inspire, Energize

Health Benefits*:

Helps regulate the body's natural cleansing process.  
Ingredients: Black tea
*These statements have not been evaluated by the Food and Drug Administration. This product is not intended to diagnose, treat, cure, or prevent any disease.