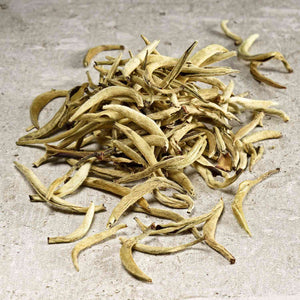 Silver needle is the world's most sought after white tea, it is tea buds only, harvested just a few days each year in Fujian, China. These silver buds produce a light golden glow, delivering subtle notes of melon with a soft elegance.
Instructions: Steep 1 tablespoon of loose leaf tea in 6 - 8 oz of hot water (175º F) for 4 - 5 minutes. 40 servings for every 2oz.
Tea Properties:
Origin:

China

Tea Type:

White Tea

Caffeine Level:

Low

Intention:

Relax, Restore, Explore

Health Benefits*:

Boosts hydration, skin health, and metabolism. Cleansing and cancer-fighting properties. High in antioxidants. 
Ingredients: White tea

*These statements have not been evaluated by the Food and Drug Administration. This product is not intended to diagnose, treat, cure, or prevent any disease.