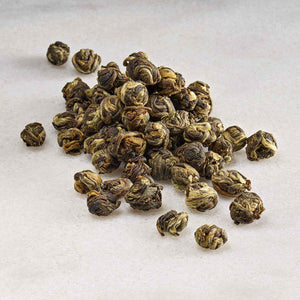 Indulge in a bouquet of hand-picked organic green tea buds, scented in a 1000-year-old Chinese tradition with fresh jasmine blossoms, and carefully rolled into small pearls. Exquisite in flavor and aroma, and reputed to increase circulation, ease tension and reduce cholesterol.
Instructions: Steep 1 teaspoon of loose leaf tea in 6 - 8 oz of hot water (175º F) for 1 - 3 minutes. 24 servings for every 2oz.
Tea Properties:
Origin:

China

Tea Type:

Green Tea

Caffeine Level:

Medium

Intention:

Create, Indulge

Health Benefits*:

Reduces anxiety and stress. High in antioxidants.
Ingredients: Jasmine scented green tea
*These statements have not been evaluated by the Food and Drug Administration. This product is not intended to diagnose, treat, cure, or prevent any disease.