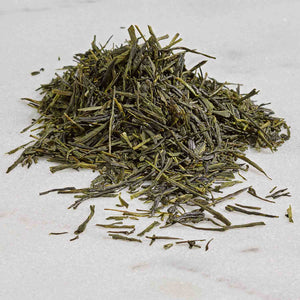 Top-grade Japanese green tea. The greenest of green teas, it is grown in the shade for three weeks prior to harvest, thereby increasing chlorophyl and nutrient content. This tea is high in antioxidants, caffeine and B vitamins, while being mellowed out by high L-theanine levels.
Instructions: Steep 1 teaspoon of loose leaf tea in 6 - 8 oz of hot water (175º F) for 1 - 3 minutes. 24 servings for every 2oz.
Tea Properties:

Origin:

 

Japan

Tea Type:

 

Green Tea

Caffeine Level:

 Medium-High

Intention:

 Restore, Inspire

Health Benefits*:

 Anti-aging, cancer prevention, and immune-boosting properties. stabilizes blood sugar and helps fight against cavities and gingivitis. 
Ingredients: Green tea
*These statements have not been evaluated by the Food and Drug Administration. This product is not intended to diagnose, treat, cure, or prevent any disease.