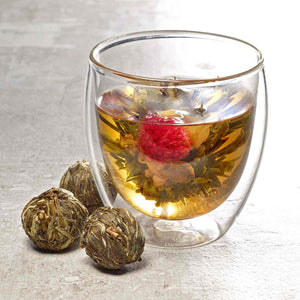 A stunning flowering tea infused with peach then hand-tied with amaranth and jasmine flowers. Blooms right in your pot and tastes as fabulous as it looks! 
Instructions: Steep 1 Halo Blooming Tea bulb in 16 oz of hot water (195º F). Re-steeps very well, just add more hot water! Four to Eight servings for every 2oz. 
Tea Properties:
Origin:

China

Tea Type:

Blooming white tea 

Caffeine Level:

Low

Intention:

Create, Explore, Indulge

Health Benefits*:

Promotes skin health & hydration. High in antioxidants. May fight against cancer. Cleansing properties that boost metabolism. 
Ingredients: White tea, amaranth flowers, jasmine flowers, natural flavors
*These statements have not been evaluated by the Food and Drug Administration. This product is not intended to diagnose, treat, cure, or prevent any disease.