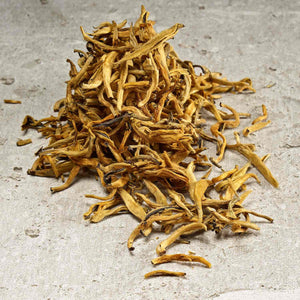 A step above, this well-rounded tea is made from only the fresh tea buds and offers wonderful notes of chocolate with hints of sweet potato and caramel—a great choice for anyone looking to elevate their tea experience.
Instructions: Steep 1 tablespoon of loose leaf tea in 6 - 8 oz of hot water (208º F) for 4 - 6 minutes. 32 servings for every 2oz.
Tea Properties:
Origin:

China

Tea Type:

Black Tea

Caffeine Level:

 Medium-High

Intention:

Create, Restore, Explore

Health Benefits*:

Boosts heart health and mental health. High in antioxidants.
Ingredients: Black tea
*These statements have not been evaluated by the Food and Drug Administration. This product is not intended to diagnose, treat, cure, or prevent any disease.