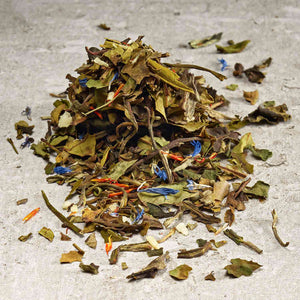 A dreamy tropical infusion with a light body and a smooth, creamy texture – a favorite of many! Delivers a sweet and soothing balance of coconut and is great hot, iced, or as a dessert tea.
Instructions: Steep 1 tablespoon of loose leaf tea in 6 - 8 oz of hot water (175º F) for 4 minutes. 40 servings for every 2oz.
Tea Properties:
Origin:

Schasteâ

Tea Type:

White Tea

Caffeine Level:

Low

Intention:

Indulge

Health Benefits*:

Helps with hydration, skin health, and metabolism regulation. Has cleansing and cancer-fighting properties. High in antioxidants.
Ingredients: White Tea, Organic Safflower, Cornflowers, Organic Coconut, Natural and Artificial Flavors.
*These statements have not been evaluated by the Food and Drug Administration. This product is not intended to diagnose, treat, cure, or prevent any disease.