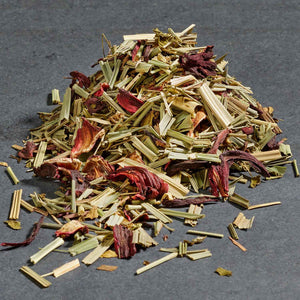 Refreshing herbal blend with the naturally fruity and tart flavors of hibiscus flowers and lemongrass, with a hint of peppermint. Staff favorite for a caffeine-free iced tea!
Instructions: Steep 1 tablespoon of loose leaf tea in 6 - 8 oz of hot water (208º F) for 4 - 7 minutes. 40 servings for every 2oz.
Tea Properties:

Tea Type:

 

Herbal Tea

Caffeine Level:

 Caffeine Free

Intention:

 

Restore, Energize

Health Benefits*:

 Promotes heart health, normal blood pressure, cholesterol levels, and circulation.
Ingredients: Lemongrass, hibiscus, peppermint

*These statements have not been evaluated by the Food and Drug Administration. This product is not intended to diagnose, treat, cure, or prevent any disease.